Cookbook on Evenki cuisine "The traditional cuisine of the Evenki people of Southern Yakutia" wins the 1st place in the category C 22 Arctic at the Gourmand World Cookbook Awards 2020, reports the Gourmand official web page. The author of the book – Nadezhda Gerasimova was born into Evenki reindeer herding family in Iengra (Sakha Republic Yakutia). Before going to school, she had been living in taiga with her family. In this book, the recipes of traditional Evenki dishes are intertwined with memories from author's childhood. Nadezhda writes in her book: "The children of my generation grew up in a favorable time for the nomadic Evenki: the natural surroundings were pristine, there were many reindeer and lots of good food for them, and the rivers were deep and clean and full of fish. We all spoke our native language perfectly, and we knew and observed our everyday customs and traditions". The president of the Gourmand International, Edouard Cointreau, reflected that unlike so many other cookbooks this book is able to tell a story, a real story about people, which is very rare indeed.
The idea to write the book came to Nadezhda in 2003, she says "Since that time, I have been collecting material: I wrote down stories from the elders of the Iengra village and recipes for Evenki dishes, and I visited the reindeer herding camps of my relatives, where the everyday life of the Evenki was photographed".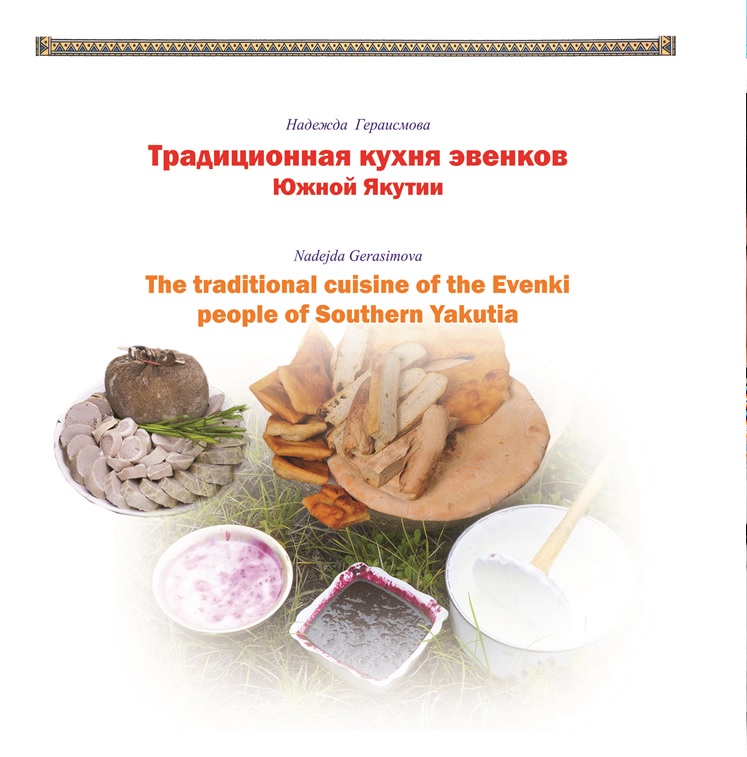 Nadezhda Gerasimova is also one of the author to the EALLU cookbook at the Arctic Council EALLU project, the book as won the in the category Arctic and became the best world cookbook of the year 2018 in Yantai during Gourmand International. The project lead by International Centre for Reindeer Husbandry and Association of World Reindeer Herders. According to Nadezhda, it is very important to retain the memories of our ancestors so that our children and grandchildren will know and not forget the traditions and customs of their people. While the bearers of this traditional knowledge are still alive, we must collect and preserve it for future generations.
The Gourmand World Cookbook Awards were founded in 1995 by Edouard Cointreau. Every year, they honour the best food and wine books, printed or digital, as well as food television. According to the official statement, it is for the first time since the founding of the awards in 1995, they release the list of the Best in the World winners before the awards ceremony. Due to the COVID-2019 pandemic, many events had been called off, the Gourmand International decided that releasing the list now might make hundreds happier in these very difficult times.
Photos by Yuri Kokovin