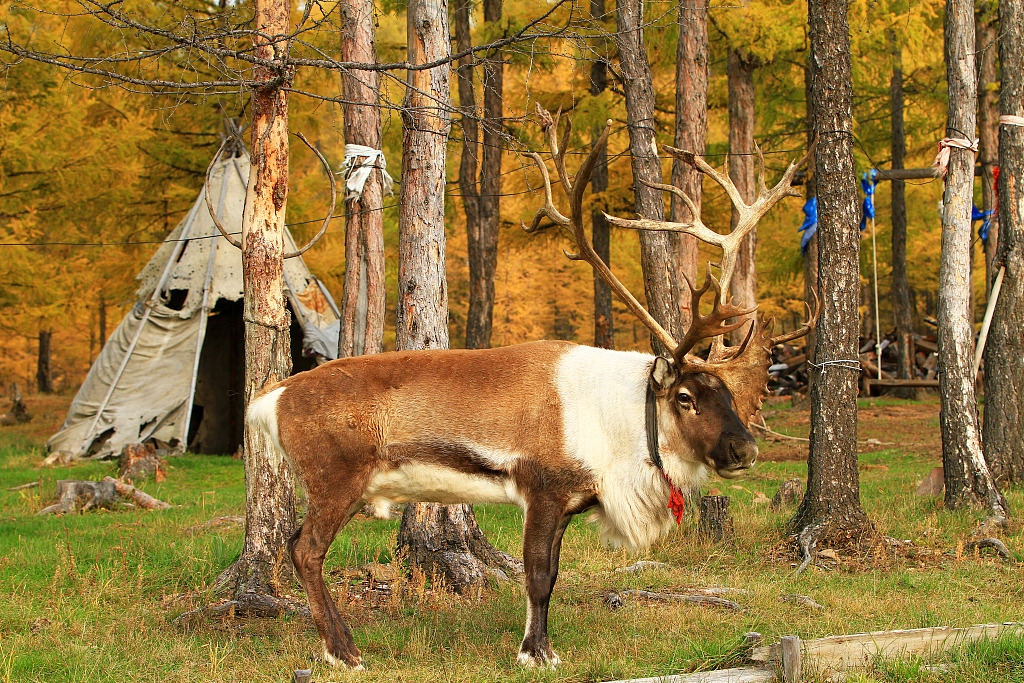 As the vice mayor of Zhalantun City in north China's Inner Mongolia Autonomous Region, she took one of the concerns of her people to the annual meeting of the CPPCC, China's top political advisory body, in Beijing.
"Currently, the breeding area for the reindeer is not enough. This is one of my proposals during the session," Du, a member of the National Committee of the CPPCC, said.
Reindeer, listed as a vulnerable species by the IUCN, are mainly semi-domesticated in China. Most of the Ewenki people still live a half-nomadic life, the deer having been domesticated by older Ewenkis for transportation.
The reindeer are the Ewenki people's best friends when they are wandering and hunting in the forest.
However, the number of reindeer has decreased due to inbreeding, habitat loss and disease. Their population had only about a thousand in 2000.
To protect the environment and ecosystem, China has started a series of projects since the 1970s, such as the Three-North Afforestation Program (TNAP) and Grain for Green Program.
Even though China has become one of the fastest-growing forest resource countries in the world, some obstacles have inadvertently remained in the way of the reindeer's population restoration and growth.
As grazing grounds are limited to protect the grassland and forests from overstocking, the deer, in the same way, have also been affected.
The local forestry department has asked the Ewenki people to build fire barriers around their hunting sites and put sand or rocks around their living areas. If not, tribe members are not allowed to graze, cook and even warm themselves by the fire.
In reality, these requirements are very hard to fulfill.
"It is a huge project to conduct (in terms of building barriers and putting sand) because the campsites are not always on the same spot. And the actual situation of raising reindeer and the distribution of plants, are not being fully considered (in the policies)," said Du Mingyan.
Du believes the awareness of fire safety and perverse forest resources have grown in their roots since the Ewenki people have lived in the forest for generations. They love the deer and consider the animal as a symbol of luck and happiness. The tribe has already formalized their way of living with nature in harmony.
At the meeting of the third session of the 13th NPC, Du hopes certain policies can be loosened so that the reindeer can gain more space for living. She also proposed a compensation policy for reindeer hurt by predators or people.
Source: CGTN
Photo: A reindeer kept by Ewenki people in north China's Inner Mongolia Autonomous Region. /VCG