Source: Comprehending caribou in the oil patch, by Sam Bishop
A half-century of research by University of Alaska Fairbanks (UAF) alumni and others uncovers how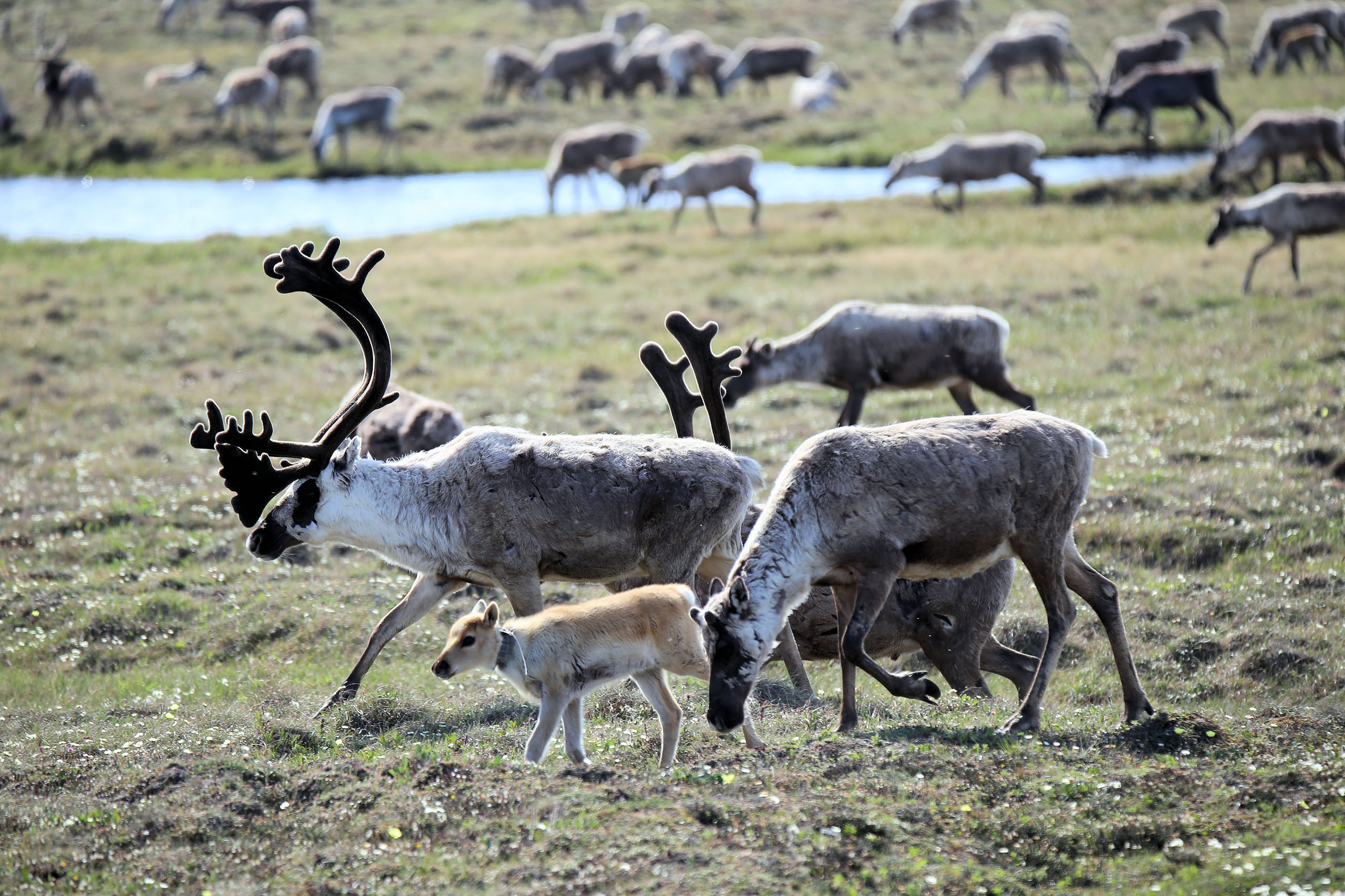 caribou react to oil work on Alaska's North Slope. Biologist, Brian Lawhead recently retired from the Fairbanks-based environmental consulting firm Alaska Biological Research Inc. (ABR), where he contributed to 40 years of caribou research. From data gathered in those studies and others that preceded or paralleled his work, scientists now know that Central Arctic Herd caribou react to the oil fields very differently during different seasons.
Oestrid flies are one reason — some caribou actually seek out gravel roads and pads, which the flies tend to avoid, Lawhead noted.
But the researchers also have documented how human activities and oil-field designs can create seasonal obstacles and other challenges for caribou, he said.
The research, for example, conclusively shows that female caribou, when calving in spring, avoid roads and gravel pads with oil-field traffic.

Those insights, when used in oil-field design and operations, can reduce the potential negative effects on caribou as development spreads westward on the North Slope, Lawhead said. ABR's caribou research was primarily funded by ConocoPhillips Alaska and its predecessors, major players on the North Slope and in the westward expansion.
"The whole point of a lot of our work is to identify and evaluate mitigative measures," Lawhead said.
In the research Lawhead along with other fellow ABR scientists worked on caribou studies, how they respond to development, observed calving displacement, mosquito and fly seasons.
"Caribou don't react to flies like they do to mosquitoes.
"The response to flies is like panic running," Lawhead said. "They'll often be standing still, head down, stamping, twitching. And then they just take off, just wild running in any direction."
On cloudless days, the caribou seek out shade; the flies prefer sun. So it's even common to see bull caribou under buildings and pipelines, Lawhead said"
Lawhead and Prichard said research by ABR and others across the decades has driven the adoption of several measures to reduce negative effects of oil development on caribou.
"We know a lot about properly designing infrastructure now to minimize delays and deflections".

Read the full article by Sam Bishop here
Source: Aurora Magazine, University of Alaska Fairbanks
Photo left: Brian Lawhead searches through caribou photos at the ABR office in February 2023. UAF photo by Eric Engman, Aurora Magazine, University of Alaska Fairbanks
Photo right: Caribou, including a calf with a collar, move through the Kuparuk oil field in July 2016. Photo by Wendy Mahan, ConocoPhillips, Aurora Magazine, University of Alaska Fairbanks