A video of a polar bear wandering in Tomponskiy district of Yakutia (Russia) has become viral on the Whatsapp messenger today. The territory of the Tomponskiy district is not a habitat of polar bears. And the area of the Khandyga village where the bear was filmed is approximately 1000 km away from the ocean coast. The bid predator came close to a man who was fishing on the lake. Fortunately, the man had time to run away to a safe distance, where he filmed the bear.
The video shows that the animal was rummaging in a box with fishing accessories in search of, apparently, fish. The cameraman comments that at the slightest attempt to approach the fishing box, the bear showed aggression. By the end of the video, the bear took a bag with spoonhooks and went into the forest.
Another video have being circulated on Whatsapp that shows the potential route of the bear, see the image.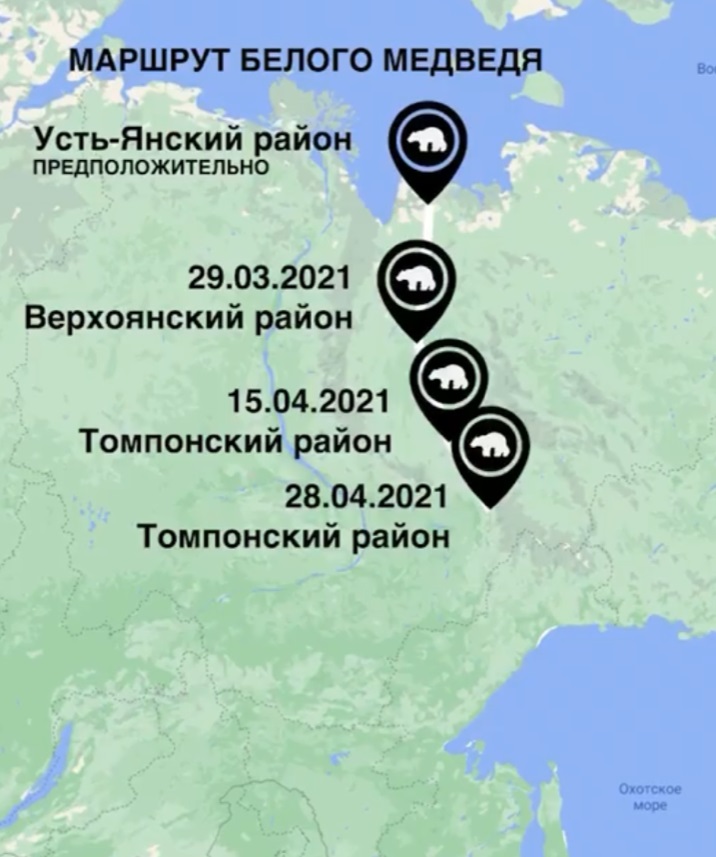 With this accident, the Minister of Ecology and Nature Management of Yakutia Sakhamin Afanasyev instructed the Tomponskiy Inspectorate of State Environmental Supervision to find and capture the animal. The bear's further fate will be decided after negotiations with the Federal Supervisory Natural Resources Management Service and the Council for Coordination of Activities of Russian Zoos.
The polar bear is included in the Red Book.
Tomponskiy District – area where mountain taiga reindeer husbandry is practiced and most of the reindeer here are bred and herded by the Evens people.
Source: Ministry of Ecology and Nature Management of Yakutia, whatsapp