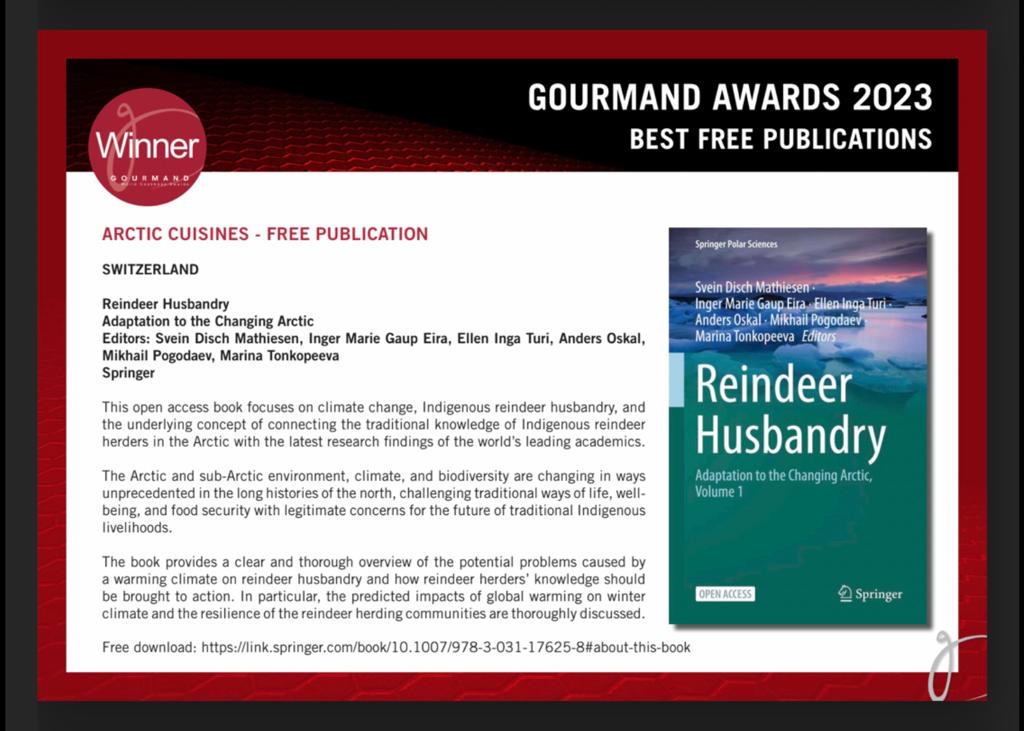 A new book on Reindeer Husbandry published recently, became a winner in the category Free Publications at the the Gourmand World Cookbook Awards. The book also been listed among winners in the Category D24 CLIMATE & FOOD. About the book
Reindeer Husbandry: Adaptation to the Changing Arctic
Editors: Svein Disch Mathiesen, Inger Marie Gaup Eira, Ellen Inga Turi, Anders Oskal, Mikhail Pogodaev, marina Tonkopeeva
This open access book focuses on climate change, Indigenous reindeer husbandry, and the underlying concept of connecting the traditional knowledge of Indigenous reindeer herders in the Arctic with the latest research findings of the world's leading academics.
The Arctic and sub-Arctic environment, climate, and biodiversity are changing in ways unprecedented in the long histories of the north, challenging traditional ways of life, wellbeing, and food security with legitimate concerns for the future of traditional Indigenous livelihoods.
The book provides a clear and thorough overview of the potential problems caused by a warming climate on reindeer husbandry and how reindeer herders' knowledge should be brought to action. In particular, the predicted impacts of global warming o winter climate and the resilience of the reindeer herding communities are thoroughly discussed.
Free download: https://link.springer.com/book/10.1007/978-3-031-17625-8#about-this-book
About Gourmand award
The Gourmand World Cookbook Awards were founded in 1995 by Edouard Cointreau. Every year, they honour the best food and wine books, printed or digital, as well as food television. The Gourmand Awards have been compared to the "Oscars" for film. They are inspired by the Olympic Games and their spirit. The Gourmand Awards are a unique opportunity to build the image of the food culture in a country, show the world its spirit.