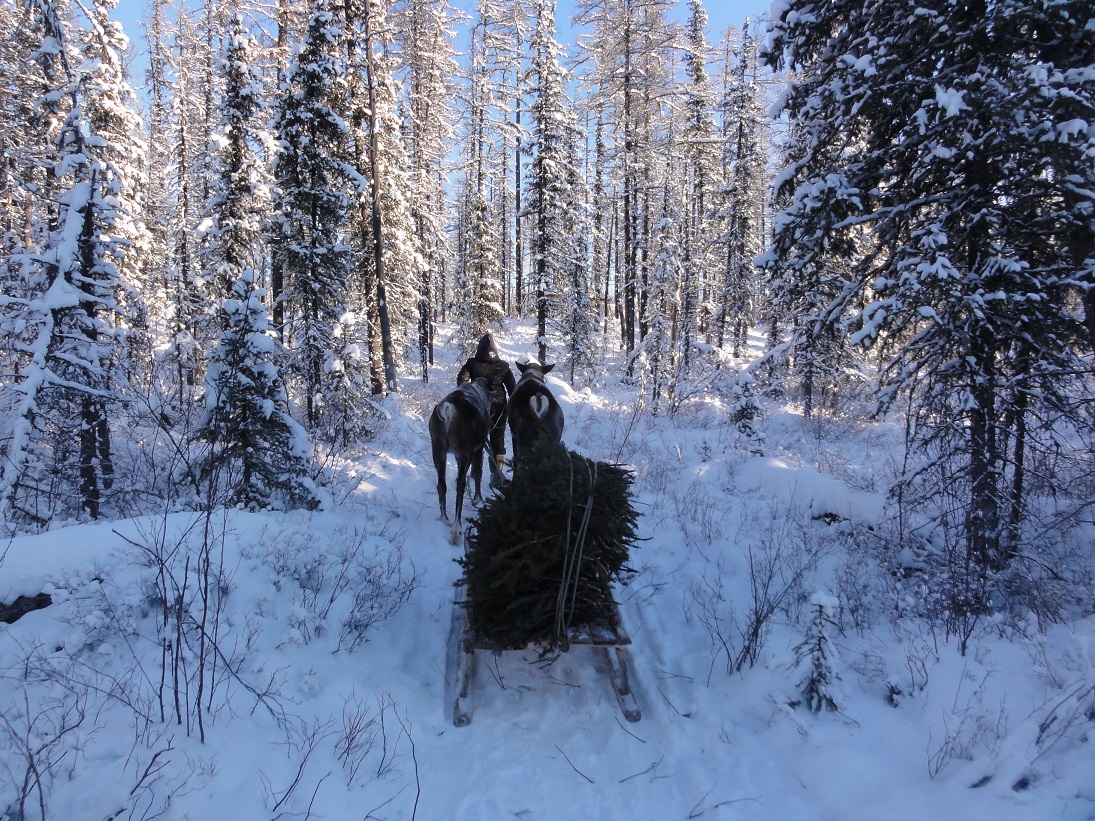 A new UArctic article by ICR team about resilience to climate change. The article is published in this year's UArctic Shared Voices magazine.
By Alena Gerasimova, Project Manager at International Centre for Reindeer Husbandry, Researcher at UArctic EALÁT Institute and
Svetlana Avelova, Project Manager at International Centre for Reindeer Husbandry, Principal Specialist at UNESCO International Department, North-Eastern Federal University and
Mikhail Pogodaev, Deputy Minister, Ministry for Development of the Arctic and the Peoples of the North of the Republic of Sakha (Yakutia) and
Anatoly Zhozhikov, Head, UNESCO International Department, North-Eastern Federal University and
Anders Oskal, Lead of the UArctic EALÁT Institute, Executive Director, International Centre for Reindeer Husbandry and
Svein Disch Mathiesen, Lead of the UArctic EALÁT Institute, Professor, International Centre for Reindeer Husbandry
Six times the size of France, the Republic of Sakha (Yakutia) stretches from the Henrietta Islands in the far north to the Stanovoi mountain range in the south.
It is a land of contrasts: it has some of the coldest climates and extremes of temperature on the planet with permanent human settlements, a rich and diverse biodiversity with large undisturbed habitats, and indigenous traditional livelihoods practiced for centuries.
Yakutia is home to several small-numbered indigenous peoples who practice reindeer husbandry, including the Evens, Evenks, Dolgans, Yukagirs and Chukchi. With more than 152,000 reindeer, Yakutia has the second largest number of reindeer in Russia. Reindeer herding in Yakutia is practiced in different climate zones and ecosystems ranging from Arctic tundra to mountain and boreal taiga. Taiga reindeer husbandry consists of small-sized herds. These communities combine herding with hunting of wild game in areas of extensive industrial development, which represents a profound challenge for taiga reindeer herders in addition to climate change and globalization.
Extreme temperatures are typical to Yakutia, from -65°C in winter to +40°C in summer. Nevertheless, air temperature in spring in Northern Yakutia has for the last thirty years increased with more than 6°C, effecting the economy of reindeer herders' communities. In summer, fires are one of the major threats to biodiversity and reindeer herding, and a major contributor to land degradation in Yakutia.
Indigenous reindeer herders in the Circumpolar North are facing profound changes in their societies. Both climate change and socio-economic change are already impacting the economies and cultures of reindeer husbandry. Adaptation to climate change demands training of Arctic leaders in long-term sustainable thinking based on the best available adaptation knowledge, that is, both scientific and experience-based traditional knowledge. The UArctic Institute for Circumpolar Reindeer Husbandry (UArctic EALÁT Institute) seeks to strengthen the resilience of herding societies through capacity building of indigenous youth – the Arctic leaders of tomorrow.
The EALÁT Institute aims for excellence by including reindeer herders' traditional knowledge as well as science-based knowledge in research, training and educational programs, and in the planning of scientific activities for Arctic indigenous peoples. The Institute facilitates communication between holders of traditional knowledge and participants conducting scientific activities, and facilitates the participation of indigenous youth in these activities. Since 2009, more than 260 indigenous youth have participated in courses and training in Yakutia and in Norway related to leadership, adaptation to climate change, traditional knowledge, biodiversity and reindeer herders' traditional food systems.
Examples of the initiatives and projects of the UArctic EALÁT Institute:
Adaptation and resilience to climate change in reindeer husbandry in the Republic of Sakha (Yakutia), and new tools for multi-disciplinary education and enhanced cooperation. This includes several online trainings about adaptation from North-Eastern Federal University and Harvard University's Arctic Initiative.


"Nomadic Herders" initiative in Yakutia, with focus on indigenous reindeer herding skills and resilience to multiple drivers of biodiversity change, and on social changes that affect the sustainability of traditional family-based nomadic use of pastures.


Investigating the extent to which the Northern Sea Route can provide new economic opportunities for indigenous reindeer herders' societies through increased market access and local value added, with Centre for High North Logistics.


A pilot training program for Arctic indigenous youth on food innovation and business development, based on traditional indigenous knowledge; a practical course focusing on creative processes identifying business ideas and development of new businesses, with Nord University and North-Eastern Federal University.


Studying the effect of Arctic diets, plants and berries on human well-being; the Arctic Council-endorsed project "EALLU: Reindeer Herding Youth, Adaptation to Climate Change and Food Culture".


The UArctic EALÁT Institute works in close cooperation with North-Eastern Federal University (NEFU) in Yakutsk, Russia, and the international UNESCO Chair on Social and Human Adaptation of the Arctic Regions to Climate Change, located at NEFU. The Republic of Sakha (Yakutia) has strongly contributed to the Institute's activities since its establishment in 2011.
The magazine is now online, and you can read all articles here:
https://www.uarctic.org/shared-voices/shared-voices-magazine-2020/
Photo by Alena Gerasimova