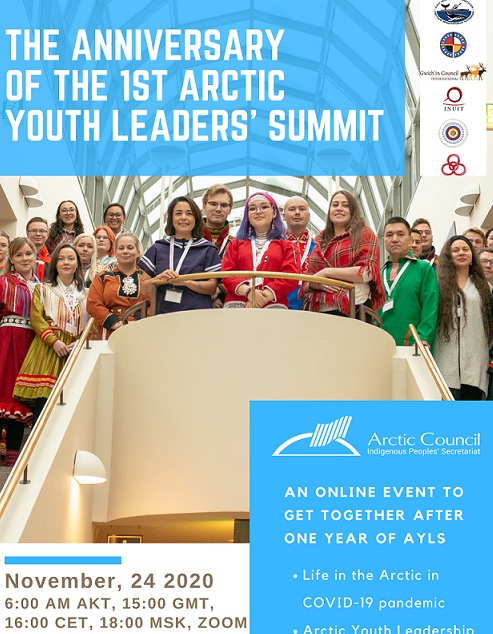 November 24, over 60 participants joined Arctic Council Permanent Participants (PP) Youth online event to get together one year after the 1st Arctic Youth Leaders' Summit.(AYLS) Chair of the Indigenous Peoples Secretariat (IPS) - Dr. Ellen Inga Turi from the Saami Council, opened the meeting with introductory remarks highlighting the role and the work of the youth in the Arctic cooperation, other inspirational keynote speakers: academic and artist Haliehana Stepetin representing Unganax region and Project Manager Tukuminnguaq Nykjær Olsen from Inuit Circumpolar Council Greenland (ICC) she was telling about youth engagement and AYLS Rovaniemi Declaration in ICC's youth work.
The panel brought together a great group of young professionals and professionals -
Nina Veysalova
- the First Vice-President of
RAIPON
(Ассоциация КМНСС и ДВ РФ), Board of Director
Jordan Peterson
from
Gwich'in Council International
(Former Deputy Grand Chief in Gwich'in Tribal Council),
Tuomas Aslak Juuso
, the President of Finni
sh Sámediggi Sämitigge
Sääʹmteʹǧǧ Saamelaiskäräjät,
Samantha Harrison
bringing youth voice from the
Inuit Circumpolar Council Alaska
,
Michael Bro
- Student and young Inuk from Greenland and
Jacey Firth-Hagen
#speakgwichintome. The panel was led by great moderators
Deenaalee Hodgdon,
the youth representative of
Arctic Athabaskan Council
, and Dr.
Liza Mack
,
Aleut International Association
Executive Director.
Based on the work started yesterday, the youth will develop a declaration. The PP youth are planning to have a public event in the near future for a broader audience and also hold the breakout sessions later separately from today's session due to lack of time.
Source: IPS